Real Estate LESS THE FLUFF
A equipe Real Estate Jedi™ é liderada por Jed e Jamile, ambos corretores licenciados em San Diego.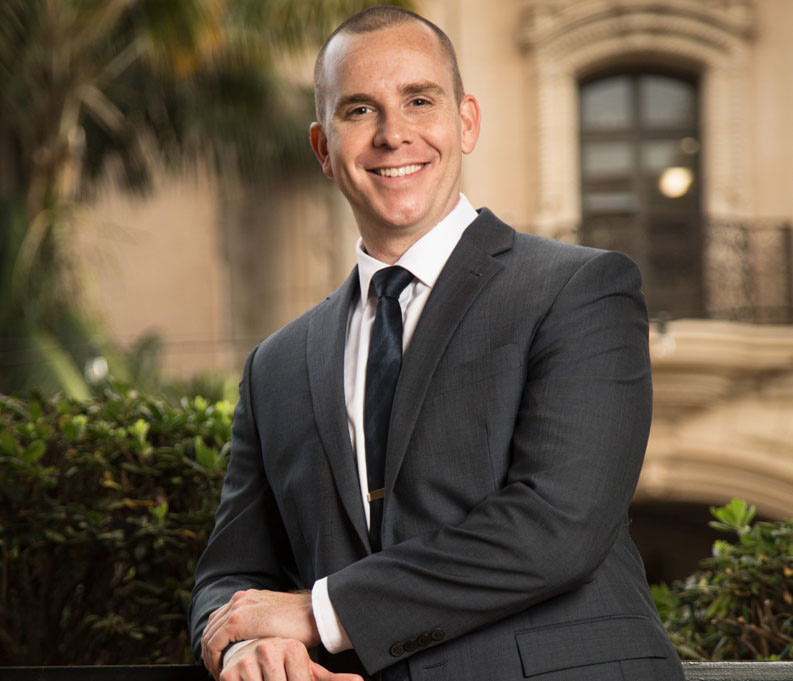 Jed serviu a Marinha por oito anos, e hoje é um corretor de imóveis e ativo investidor imobiliário na Califórnia e em outros estados.
Pouco depois de se alistar nas Forças Armadas, Jed comprou sua primeira propriedade para investimento, aos 19 anos de idade, e desde então está envolvido com o mercado imobiliário.
Inicialmente, Jed  utilizou seu VA Loan – um empréstimo direcionado a veteranos militares – para comprar propriedades multifamiliares para si, e começou sua carreira no mercado imobiliário em 2010, enquanto servia na Marinha, auxiliando outros membros do serviço a comprar propriedades com seus VA Loan.
Após sua dispensa honrosa em 2014, Jed mudou seu foco para o mercado imobiliário em tempo integral, continuando a servir a clientela militar e civil.
JAMILE STORCK (CO-FUNDADORA)
Jamile é uma investidora imobiliária e atua como corretora de imóveis licenciada desde 2012, quando mudou seu foco profissional de seu negócio de exportação de pedras no Brasil para trabalhar ao lado de Jed no atendimento ao mercado imobiliário local de San Diego.
Com sua experiência anterior em negócios e conhecimento em construção residencial, Jamile tem uma vantagem na avaliação do potencial de uma propriedade e na implementação de ideias criativas para aumentar seu valor.
Por ter familiaridade com atendimento ao cliente, negociação e diplomacia, além de um diploma em relações internacionais e experiência em negócios internacionais, Jamile oferece fortes habilidades de negociação, bem como o tato necessário para lidar com os cenários mais desafiadores.
Melhor do que falar sobre nós, é mostrar nossos resultados:
Working with Jed, he definitely lives up to his Jedi name! He was very personable, communicated often, and got the deal done from start to finish with no issues. I have 0 complaints working with Jed, and wish every real estate professional was as easy-going and witty! FIVE STARS for Jed...can't wait to work with him again!

Kelli Horton


7/14/2021

Jed and Jamile are the best in San Diego, when the time comes to sell/buy again I will be calling then with no hesitation. Every question I had was met with a well thought out informed response. They were attentive to exactly what we wanted providing great suggestions as well as sharing their wealth of knowledge such as repairs, alternatives, and things that will cause us problems in the future. Every person they recommended from inspectors to lenders were quick, efficient, and thorough. They pride themselves on having a reliable team that they can count on. They saved me and my wife a massive amount of stress and did everything they could to make it as painless as possible. 10/10

Keean Nash


12/01/2020

We were introduced to Jamile by a close friend of ours that had recently purchased a home with her. She was highly recommended due to her extensive knowledge in this field, buyer in mind attitude, and really goes above and beyond for her clients. Buying a home is a huge milestone, and as a first time home buyer, the process is even more scarier and daunting as you step into the unknown. Jamile was able to provide peace of mind during the process as a great and constant communicator. Jamile answered all our questions, provided guidance and really listened to our needs. Thank you again Jamile for guiding us in this journey!!! Alvaro and Erika

Alvaro Flores


7/06/2021

We were so fortunate to have found Jed for our home purchase in San Diego. Throughout the whole house buying process, which spanned several months, Jed has been there every step of the way. He has always answered every call or email, no matter what time of day or night it was. His professionalism, knowledge, patience, honesty, and hard work ethic are much respected and appreciated. We never felt that he was trying to sell us a house but acted as our advisor to answer our questions and help us make the best decision for our family. We now consider Jed a trusted friend, and we would highly recommend him to anyone searching for a new home. Thanks again to Jed for being such a pleasure to work with and finding us the perfect place to call home!

Aggie Steiner


5/20/2021

Jamile and Jed are amazing professionals. Jamile helped me and my husband to find our first house in San Diego in a very competitive market. As first time homeowners, there was a lot of questions, concerns and fear that came along during the process of buying a house and she was tireless, helping and answering all of our questions and concerns. We could not have asked for a more reliable, honest, determined, helpful, or more patient agent. She was always available to answer our calls and ready to meet us when a new house was available and during the visit she always pointed all the red flags so we could know what we were facing. She is also a great negotiator, as she helped us to get a big credit for the house repairs. I'm so grateful for her support during this process. If you are looking for a realtor who you can trust, I highly recommend them. You will not be disappointed.

Ana Paula Tramontina


3/01/2021

We had an amazing experience working with Jamile! It was our first time buying a house and everything was great, beyond our expectations. Jamile is really responsive, pays great attention to all details and is always on top of everything. We felt really supported and confident throughout the process. Thank you Real State Jedi! You are awesome!

Mariana Bertuol


5/19/2021

Jamile was incredibly knowledgeable and helpful when going through the process of purchasing our first house. She made everything easy for us. She represented us exactly the way we wanted and never was bothered by the manyyyyy questions we had! Excellent service and top notch person inside and out!

Tassia Bitencourt


5/19/2021

We connected with Jamile from day one. In our search for a RE agent who could help us achieve our goals as investors, Jamile displayed knowledge and experience right from the get-go. Her ideas and answers to our questions were invaluable throughout the process. I felt 100% taken care of, especially when placing offers in the current crazy economic environment (July 2021). Her communication skills with the selling agents and us were excellent. Her "problem-solving" attitude is admirable. I always received prompt responses to all of my questions. Even after we closed the deal a month ago, she guides us on handling situations that arise. As real estate investors, we will be relying on The Real Estate Jedi for all future investments. This multicultural couple is a super professional powerhouse. Don't hesitate to hire them if you're thinking about it.

Dariana Cruz


8/03/2021

He was super attentive and professional. Communication with him was great. I was glad to have him on my side, he did great representing me. I highly recommend his service to everyone. At the end of the day I felt that he earned his commission.

tat satate


7/10/2021
TRABALHE COM O THE REAL ESTATE JEDI™
Chega de conversa fiada de vendas. Vamos ao que interessa. Deixe nossa nossa equipe orientá-lo até a linha de chegada de seus objetivos imobiliários.
QUEREMOS SER SUA EQUIPE IMOBILIÁRIA PARA VIDA!
Avise-nos sobre como podemos ajudá-lo!